Fox Creek Northland Sno-Goers are actively preparing for their annual Poker Rally, set for Saturday, February 6th.
New this year, Northland Sno-Goers offers the chance for riders to venture out on the traditional Eagle Tower and Trappers Cabin route or to new warm up cabin at Goose Main.
Goose Main is approximately 58 kms northeast of Fox Creek on the Golden Triangle.
To update our readers, the warm up cabin was set in place, over a two day set up, mid-December, 2015 at Goose Main. Related Fox in Focus story:Volunteers build Cabin for the Golden Triangle
It took a dedicated volunteer crew, working together with drivers, companies and supporters, to transport the 16 by 24 cabin to its destination.
At the end of September and beginning of October, over 20 volunteers spent every spare moment they had over a two weeks span to construct the new warm up cabin for the snowmobile trails.
Volunteers gathered together, used all of their own tool, dedicated many, many hours and met at the Bare Contractors yard to construct the cabin.
Funds for the cabin were provided by a ARTP grant from the Alberta government, NTC (National Trails Coalition) grant from the Federal government, AAA Sand and Gravel, SemCAMS, Tim Keogh/EGS, JNT Portable Welding and the Alberta Snowmobile Association.
Additional support and donations from the following companies made the vision of the cabin a reality: G & L Trucking, ProFoxx, Bare Contractors, Dale Bentley Trucking, Knotty Pines Cabins, ATCO Electric, Fortess Electric, GW Trackhoe Services (Gord), Talisman, Town, Public Works and Balto.
Volunteers included but not limited to were: Harold, Terry and Dennis Bellwood, Curtis Ransom, Mike Ransom, Spencer Vertypora, Cody MisKelly & Family, Rod North, Loewen Schmidt, Jeff Baird, John Tyson, Bill Lanktree, Allan Lariviere, Allan Palmer, Dave Gunsch, Brian Pighan, Robert Neumann, Scott and Vickey McLeod and Brenda Clair.
The new cabin can sleep up to eight people, is wired and insulated, including a loft and a wood burning stove.
The board would like to remind riders and participants of the poker rally to purchase their trail passes. Trail passes are available from Tim at Rexall Pharmacy or any of the board members. Rates are $80 for a year or $20 for a day. A major portion of the trail pass funds comes directly back to the local non-profit club for trail maintenance.
Northland Sno-Goers board includes: Rod North/President, Allan Lariviere/Vice President, Robert Neumann/Secretary, Tim Pratt/Treasurer, Terry Bellwood/Trail Boss and Sheila Gilmour/Social Convener.
Thank You to the Sno-Goers for the submitted photos, most were taken by Mike Ransom.
Snowmobiling 101: Riding Safety and Trail Etiquette
Make Safety a Top Priority
We could go on and on about snowmobile safety, but well focus on a couple of things that will hopefully help you get home safe and sound.
We should all know by now that you shouldn't mix snowmobiling with drugs or alcohol so we wont harp on this issue too much. However, one seemingly obvious safety tip that many ignore is that you should avoid riding alone. Even if you only plan on heading out for a quick ride, at relatively high speeds it does not take long to travel a long way from your starting point. Riding with another snowmobiler provides the security needed in case of accident, mechanical problems, poor weather conditions or a medical emergency.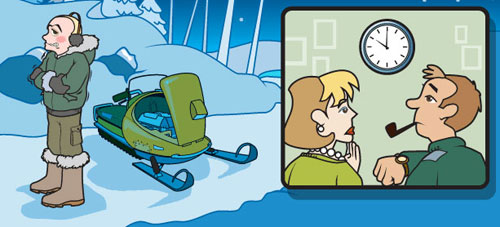 If you do go out alone you would be wise to carry a fully charged cellular phone. However, since there is not always cell phone coverage on many trails a SPOT satellite GPS messenger can come in handy. This device permits people at home to track your whereabouts and allows you to send SOS messages if you find yourself in an emergency and need rescue. Also, always let someone know where you are going and when you expect to be back.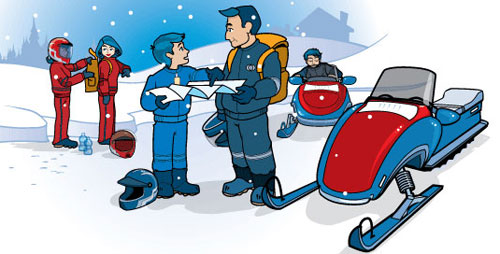 Safety should also be a priority for short trips. Just because you plan on a short ride doesn't mean no risks are involved. If you plan properly and take the necessary safety measures, the potential for risk can be minimized on any trip.
Trail Etiquette
Snowmobiling is very much a community activity. Snowmobile clubs, which are almost always volunteer driven, are the main reason we have so many fantastic trail systems to ride. If you want these trails to be available for years to come there are some rules that need to be followed. As a snowmobiler you have a responsibility to ride in a manner that is both legal and respectful towards your fellow riders and the environment.
Always
Keep to the right side of the trail.
Operate in a safe and courteous manner.
Give trail groomers the right of way.
Reduce your speed when there is oncoming traffic.
Give uphill riders right of way when you are traveling downhill.
Slow down and give the right of way to any skiers, hikers, persons on snowshoes or dogsleds you might encounter.
Always report illegal operation out on the trails.
Slow down when passing a parked snowmobile on the trail.
Never
Ignore the posted speed limits for an area, as well as all other trail signs.
Pull over on a turn or curve. If you need to stop along a trail, pull over to the right side of the trail and only do so on straight stretches.
Leave your engine running if you need to stop for any length.
Ride on private property without permission.(Source:http://www.snowmobilecourse.com/)
Print This Post
Category: Brandi, Community, Organizations
Brandi loves meeting people and sharing their stories. A country girl at heart, she appreciates the simple things in a complex world.