$5000 Goal + was Reached!
January 12th – 3:00 pm, $5315.00 was raised by 57 people in two days.
Update #3 – Time, Love and Overwhelming Support
"He is a mystery boy. The doctors still haven't found the cause of the infection they are still testing. We are overwhelmed with the donations – its so awesome that everyone is spreading the love and helping us along this hard journey.
I'm grateful that there are so many people out there to lend a hand with our situation here at the Stollery, a lot of worry and wonder off our heads, but still a lot for Phoenix.
They have started to wean him off the ECMO machine, this is a sign that he is breathing for himself with some help of the ventilator machine. Little by little, all it will take is time and love for this little man to heal and we are with him every baby step of the way.
We are still maintaining and staying by his side through thick and thin in all hopes of our child's recovery." – his dad Andy.
Update #2, 6:30 pm, January 11th – Vital Signs
Last night Phoenix's vital signs were good all night. They would drop a bit if he was touched, especially on the feet. At one point during the night, he stayed at 100 for almost an hour. We may think these are huge steps…but in Phoenix's recovery, it's a baby step in the right direction.
This afternoon they had the flow on his ECMO machine at 100% and they dropped it to 80%, his oxygen was still in the 90's. X-rays of his lungs are looking better as well.
If everything stays good through today, they will try do an oxygen challenge tomorrow. Fingers crossed. All of these baby steps our family is so grateful, but the recovery is still going to take awhile.
Update #1, 9:00 pm, January 10th – Baby steps
Well, this evening little man had a bit of chest movement. The doctors can hear in the left side of his lungs a little, as before there was nothing. It is a tiny baby step on his long journey, but we will take it. Our family is forever grateful for all of the support we have received from family, friends and complete strangers!
We never thought we would be going through something so challenging and taking a bit of stress goes a long way. So a HUGE thank you to each and everyone of you!! Please keep Phoenix in your prayers and thoughts…and keep sharing. – Tanya Crane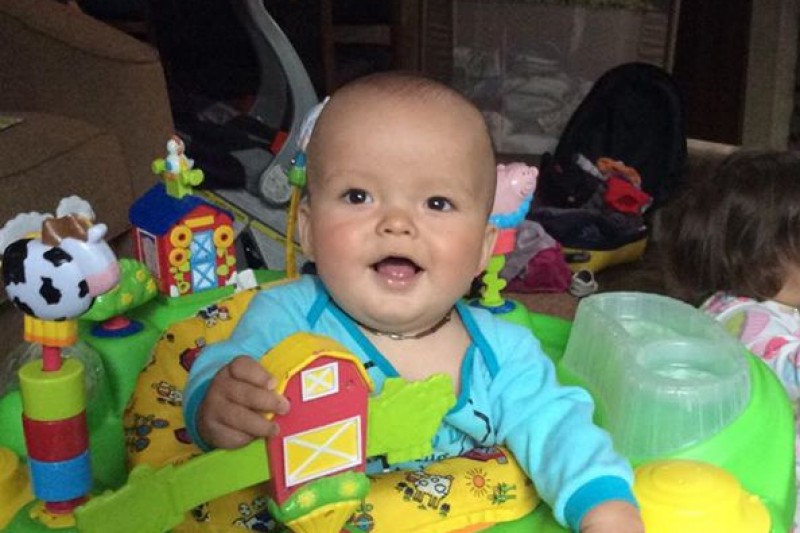 Phoenix Vincent McLeod will be turning one on January 18, 2016. He may be celebrating his birthday under the care of doctors and nurses. Phoenix is currently a patient at the Stollery Children's Hospital in Edmonton and diagnosed with bronchial pneumonia.
His family is asking for prayers and support.
His parents, Dara McLeod and Andy Yule went to the doctor in Fox Creek on January 5, 2016. Phoenix was diagnosed with bronchitis. His family reports, he later got worse and was taken into emergency on January 7th.
With the family's permission, we are sharing the gofundme page: Prayers for Phoenix McLeod:
While he was in there (The Fox Creek Hospital), it was decided he needed to head to Edmonton by ambulance. They prepped him for his journey by setting up IV's, a breathing machine, a catheter and sedated him. Upon arriving at the Stollery, it was decided it was in his best interest to remain sedated. Since he has been there he has had two bad turns.
The worse case scenarios are now in place in a matter of hours. Phoenix had to be put on a different breathing machine, 4 IV's, a catheter, a machine that is taking his blood from his heart and running it through a carbon filter and back in.
This is doing the job of his lungs so they can have a much needed rest. He is on meds to keep him paralyzed and in doing so his vitals improved.Phoenix has a long journey to recovery and his odds of pulling through are not what we like to hear…just over 50%.
On this journey, his parents, Dara McLeod and Andy Yule, would like to stay by his side but due to lack of funds they may have to leave him in Edmonton. Their daughter, Helena, 5, is staying with family so they don't have that worry.
All funds raised will go to accommodation, food and bills, if need be. Anything left over will be donated to the Stollery Children's Hospital in Phoenix's name.
A goal of $5000 is set.
As of January 10th, @ 5pm; $2325 was raised by 33 people on his gofundme page.
Phoenix's family is very grateful for the support and help.
Today, January 10th his dad reported "He is stable and getting occasional blood transfusions. Dara and I are here, staying strong, by his side."
"This little guy always puts a smile on your face and makes you giggle! Please help us take the load of worry off of Dara and Andy, so they can concentrate on baby Phoenix!!" said Phoenix's Aunt Tanya Crane.
To donate or follow along on updates, follow this link: Prayers for Phoenix McLeod:https://www.gofundme.com/qmvcdkes?rcid=95f98cdd5efb464eaa26e1a7769f0055.
Print This Post
Category: Brandi, General, News, People in FOCUS
Brandi loves meeting people and sharing their stories. A country girl at heart, she appreciates the simple things in a complex world.